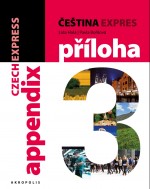 This publication, which covers the first half of the A2 level, follows on from the coursebooks Czech Express 1 and Czech Express 2. In seven practically focused lessons, Czech learners can learn to orient themselves and react in further communicative situations (e.g. on the topics of Countries, Nationality, Languages, What you like and don't like to eat, People around us, Family relationships, Where I live, Appearance, How to be polite and many others). The coursebook concentrates on mastering all the language skills. Czech grammar is simplified as far as possible and the student discovers it for themselves through text and overview tables. The coursebook is designed for teaching both in groups and on individual courses.
Czech Express 3 is composed of two volumes. The first volume contains the coursebook and workbook and is entirely in Czech. The texts and exercises in this book are complemented by a number of colour photographs and original illustrations including the popular cartoons. The second book is the Supplement with vocabulary, grammatical tables and explanations which help the learner get to know Czech through their first language (published in English, German and Russian versions and we are preparing versions in other languages). The set also includes a key to exercises and an alphabetical dictionary for the whole coursebook.
The audio recordings in MP3 format and other materials including the Teacher´s Manual can be downloaded for free here.