Čeština expres 1 (level A1/1) is a reworked and expanded edition of the popular coursebook Czech Express 1. The publication forms the first part of a two-part elementary course in "survival Czech". The new form of the coursebook is aiming to meet the requirements of the Common European reference framework and is intended for beginners who want to reach the language level of A1 quickly.
In seven practically oriented lessons Czech students can learn to understand and react in basic communicative situations (e.g. the topics of Getting to know each other, Directions, My family, When to meet etc.). The coursebook concentrates on mastering communication skills, first and foremost speaking and listening. Grammar is simplified as far as possible here and the student discovers it herself through the means of texts and overview tables.
Czech Express 1 consists of two parts. a monolingual coursebook written in Czech forms the first part, part of which is a new workbook. The second part is a supplement with vocabulary, grammatical tables and explanation in the student's first language (published in English, German and Russian versions, we are also preparing other languages). The texts are accompanied by a quantity of colour photographs and original illustrations including the popular cartoons.
The audio recordings in MP3 format and other materials including the Teacher´s Manual can be downloaded for free here.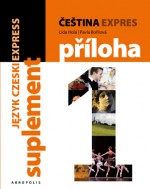 Publikacja Čeština expres 1 obejmuje swoim zakresem połowę poziomu A1 (A1/1) i stanowi pierwszą część kursu podstawowego języka czeskiego jako obcego. Podręcznik odpowiada wymaganiom Europejskiego systemu opisu kształcenia językowego i jest przeznaczony dla początkujących, którzy chcą w szybki sposób osiągnąć językową kompetencję w języku czeskim na poziomie A1. Z siedmiu praktycznie zamierzonych lekcji zainteresowani językiem czeskim nauczą się orientować i reagować w typowych sytuacjach komunikacyjnych (np. tematy Poznawanie się, Orientacja, Moja rodzina, Kiedy się spotkamy itp.).
Nauka jest zamierzona na opanowanie wybranych sprawności językowych, przede wszystkim mówienia i rozumienia. Gramatyka czeska została zaprezentowana w dużym uproszczeniu, student do pewnego stopnia sam ją odkrywa z pomocą tekstów oraz przejrzystych tabelek. Čeština expres 1 składa się z dwóch części: z jednojęzycznego, napisanego po czesku tekstu podręcznika, który również zeszyt ćwiczeń oraz z Suplementu, w którym znajduje się materiał leksykalny, tabele gramatyczne oraz wyjaśnienia, które ułatwiają naukę języka czeskiego w języku ojczystym studenta. Tekst podręcznika został uzupełniony licznymi kolorowymi fotografiami, oryginalnimi ilustracjami oraz komiksami.
Nagrania audio MP3 oraz inne materiały uzupełniające, w tym Manual dla lektorów, można pobrać za darmo tutaj.