Čeština expres 1 (level A1/1) is a reworked and expanded edition of the popular coursebook Czech Express 1. The publication forms the first part of a two-part elementary course in "survival Czech". The new form of the coursebook is aiming to meet the requirements of the Common European reference framework and is intended for beginners who want to reach the language level of A1 quickly.
In seven practically oriented lessons Czech students can learn to understand and react in basic communicative situations (e.g. the topics of Getting to know each other, Directions, My family, When to meet etc.). The coursebook concentrates on mastering communication skills, first and foremost speaking and listening. Grammar is simplified as far as possible here and the student discovers it herself through the means of texts and overview tables.
Czech Express 1 consists of two parts. a monolingual coursebook written in Czech forms the first part, part of which is a new workbook. The second part is a supplement with vocabulary, grammatical tables and explanation in the student's first language (published in English, German and Russian versions, we are also preparing other languages). The texts are accompanied by a quantity of colour photographs and original illustrations including the popular cartoons.
The audio recordings in MP3 format and other materials including the Teacher´s Manual can be downloaded for free here.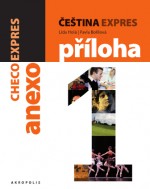 Čeština Expres 1 abarca la primera mitad del nivel A1 (A1/1) y representa así la primera parte del curso "Checo de supervivencia" que sigue el Marco europeo de referencia de las lenguas y está destinado a los principiantes que quieren alcanzar rápidamente el nivel A1. En siete lecciones prácticas el estudiante aprenderá a orientarse y reaccionar en diversas situaciones comunicativas básicas (p.ej. Los temas: Presentación, Orientación en la ciudad, Mi familia, Quedamos, etc). El libro se centra especialmente en el dominio de las habilidades comunicativas, especialmente en el habla y la comprensión. La gramática checa está muy simplificada y el estudiante la va descubriendo por si mismo gradualmente por medio de textos y tablas esquemáticas. Čeština Expres 1 está compuesta por un libro monolingüe redactado en checo y por un libro de ejercicios, además de un Anexo con el vocabulario, esquemas y explicaciones de la gramática checa en español, que facilita su aprendizaje. El texto está acompañado con fotos en color e ilustraciones originales, incluyendo los tan populares comics.
Los audios en MP3 y otros materiales complementarios, incluido el Manual del Profesor, pueden descargarse gratuitamente aquí.